10 Best Business Simulation Games
Picture yourself at the helm of a thriving business empire, making critical decisions, and navigating complex markets. Business simulation games allow you to turn this imagination into reality. Whether you're an aspiring entrepreneur, a student hungry for knowledge, a manager seeking to sharpen skills, or simply a lover of strategy games, the world of business games offers a dynamic arena where learning meets entertainment.
Exploring the Diversity of Business Games
Business games come in various flavors, each tailored to different interests and skill levels. More than just a source of fun, these games foster strategic thinking, enhance decision-making abilities, and provide a deep understanding of business dynamics. From simulating entrepreneurial challenges to delving into the complexities of supply chain management, business games offer a dynamic way to learn and engage.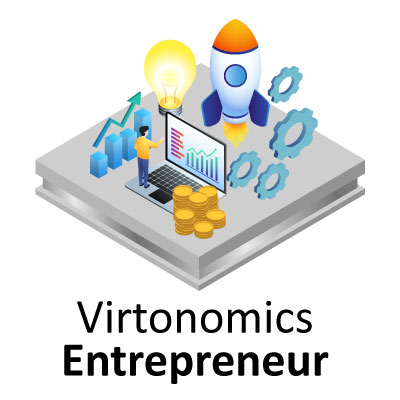 Business simulation
Educational startup simulator. Learn to manage your startup, and scale your small business to a big company.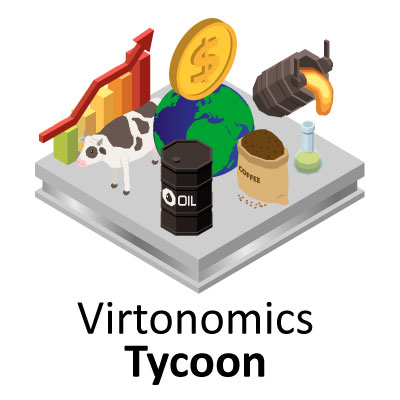 Tycoon game
Legendary business game. The most realistic free-scenario multiplayer economy simulation.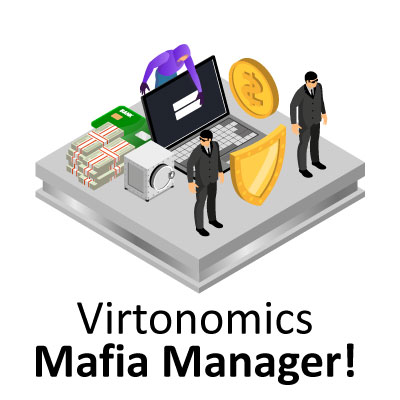 Economy game
The revolutionary economy game is about corporate wars, fierce competition, and industrial espionage.
What are business games?
Business games are interactive simulations that mimic real-world scenarios and challenges faced by entrepreneurs, managers, students, teachers, gamers, and anyone interested in learning about business. Business games can be used for education, training, entertainment, or research purposes. They can help you develop various skills such as:
– Strategic thinking and planning
– Decision-making and problem-solving
– Creativity and innovation
– Leadership and teamwork
– Marketing and sales
– Finance and Accounting
– Production and operations
– Negotiation and communication
Business games can also help you discover new opportunities, test your ideas, experiment with different strategies, and learn from your mistakes. Business games can be fun, engaging, and rewarding, as you can see your progress, achievements, and feedback.
What are the types of business games?
There are many types of business games available online, each with its own features, goals, rules, and scenarios. Some of the most common types are:
Tycoon games
These are games where you start with a small company and grow it into a large corporation. You have to manage various aspects of your business such as production, marketing, finance, human resources, etc. You also have to compete with other players or AI-controlled companies in the same industry or market. Examples of tycoon games are Virtonomics, Capitalism Lab, Industry Giant 2, etc.
Management games
These are games that focus on managing a specific aspect or department of a business, such as human resources, project management, customer service, etc. They usually involve hiring, training, motivating, and evaluating employees; planning and executing projects; dealing with customers; etc. Examples of management games are Retail Chain (Simformer), Fashion Management (Simfromer), Theme Hospital, The Sims, Diner Dash, etc.
Strategy games
These are games where you have to plan and execute your actions in order to achieve a certain objective or outcome. You have to consider various factors such as resources, time, risks, opportunities, etc. You also have to adapt to changing situations and respond to external events or threats. Examples of strategy games are Civilization VI, Age of Empires II: Definitive Edition, Crusader Kings III, etc.
Educational games
These are games that are designed to teach you specific concepts or skills related to business or economics. You have to complete various exercises or quizzes that test your knowledge or understanding of the topic. You also get feedback and explanations that help you learn and improve. Examples of educational games are "The Path to Success" (Simformer), "Crisis Management" (Simformer), Virtonomics Entrepreneur, CashFlow, MarketGlory, etc.
What are the benefits of business games?
Business games can offer many benefits for different types of users such as:
– Entrepreneurs: Business games can help you develop your entrepreneurial mindset and skills. You can learn how to identify market needs, create value propositions, validate assumptions, design business models, raise funds, etc. You can also test your ideas in a safe and realistic environment before launching them in the real world.
– Managers: Business games can help you improve your managerial competencies and performance. You can learn how to set goals, allocate resources, monitor progress, evaluate results, etc. You can also practice your leadership style and communication skills with your team members or subordinates.
– Students: Business games can help you enhance your academic learning and career readiness. You can learn about various topics and subjects related to business or economics such as core management, marketing, finance, manufacturing, sales management, supply chain, etc.
Uncovering the Top 5 Business Games
Virtonomics Tycoon: Leading the pack in business simulations, Virtonomics offers a holistic blend of strategy, finance, and entrepreneurship, providing an immersive experience like no other. FREE online access.
Capitalism Lab: Immerse yourself in economics and competition, building a business empire that stands strong against the test of time.
Industry Giant II: Master the art of industrial production and resource management, expanding your influence in a dynamic business landscape.
Virtonomics Entrepreneur: Bring your startup dreams to life by creating, developing, and marketing any products or services in a fast-paced environment.
Rise of Industry: Build an industrial empire, navigate economic shifts, and conquer markets while adapting to constant changes.
Here is a table comparing some of the key parameters of these business simulations:
| | | | | | |
| --- | --- | --- | --- | --- | --- |
| Game Name | Industry Focus | Realism | Complexity | Customization | Interactivity |
| Virtonomics | Various | High | High | High | High |
| Monopoly | Real Estate | Low | Low | Low | Low |
| SimCity | City Building | Medium | High | High | Low |
| Capitalism | Various | High | High | High | Low |
| RCT | Theme Parks | Medium | Medium | Medium | Low |
| Railroad Tycoon | Railroads | Medium | High | High | Low |
| Industry Giant | Various | High | High | High | Low |
| Tropico | City Building | Medium | Medium | High | Low |
| Football Manager | Sports | Medium | High | Medium | Low |
| Hotel Giant | Hospitality | Medium | High | High | Low |
The startup simulation "Entrepreneur"
We're proud to present a realistic startup simulation for aspiring entrepreneurs who want to start their own business, but who are concerned about going broke due to their lack of experience. It's no secret that 80% of all startups fail during the first few years. This is precisely because of the founders' lack of experience. As you know, people learn most effectively through making mistakes. Pilots are well aware of this, and that's why they are trained for years on flight simulators before they are allowed to take control of a real aircraft. The majority of novice entrepreneurs end up sacrificing hard-earned capital and a great deal of time to attain this valuable experience. Ultimately, it's very painful and expensive.

Until recently, there were no fully-functional and realistic business games for entrepreneurs. This was effectively due to the fact that businesses and the market, with their multifaceted intricacies, were more difficult to imitate than that of an airplane. Indeed, this was a very difficult and knowledge-intensive task that could only have been solved by specialists who had been working with business games for more than 10 years.

Luckily, those very individuals were soon hot on the task, and because of this, we are proud to offer you a unique and unprecedented business simulation that allows you to create a virtual prototype of your future business in a very realistic, competitive environment. Virtonomics will help you learn how to manage all key business processes, and will allow you to experiment with strategies for developing your business in a secure, virtual environment. Test your market hypotheses and your startup's unit economics in starups simulation to avoid making typical mistakes in real life. Make these mistakes and learn from them using the virtual ecosystem of Virtonomics, without risking your real investments.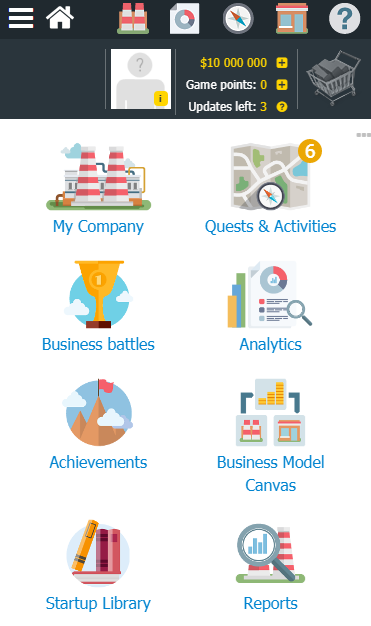 Free economic game "Mafia Manager"
For the first time ever, an free economic game has been perfectly combined with a powerful economics strategy simulation. The result involves building your global corporation with tactical "combat" PvP components. You'll control fights between security service agents, fend off spies from competing companies and carry out hidden attacks on competitors. At the same time, players can create political parties, unite their corporations and mafia clans, seize power in cities or countries and establish their own laws while changing the political system. Your degree of freedom is not limited by a rigid scenario; you yourself determine your strategy and tactics while benefiting from a wide range of choices.

With more than 200 industries to choose from, in addition to dozens of countries and regions at your fingertips, you'll have the opportunity to implement the most Napoleonic of business plans to capture the world. Benefit from the richest PvP arsenal:

– industrial espionage and private detectives;
– computer viruses and technological sabotage;
– fake contracts and black PR;
– train heists and bribing the sheriff;
– contracts with the mafia;
– many other legal and illegal methods which can be used to grab a place at the top of the food chain.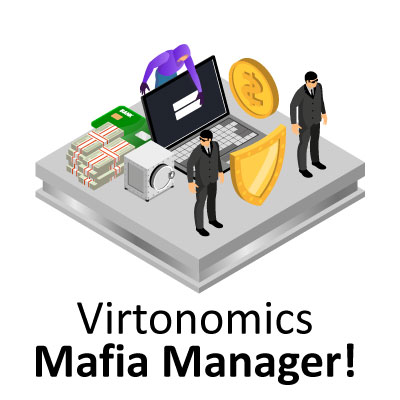 Free business game "Tycoon"
The classic and most famous MMO business game, played by over 3 million people from all over the world.

In this free economy game, you'll embark on a long, fascinating path full of risks and obstacles that will enable you to create your own business empire! Virtonomics is not Monopoly, it's a complex, multifactorial economics game for people with ambitions, and for those that are able to think, analyze, and make decisions.

Virtonomics will change your life forever. You don't just get months of engaging gameplay, but also real life business management skills that are applicable in real life. Here, you can meet and begin to communicate with outstanding entrepreneurs; encountering them in real life is often difficult. These are successful businessmen, financiers, economists, top managers and field experts. Gather courage, patience, knowledge, and go forth, future oligarch!

Virtonomics is a seductive world of big business. Take part in corporate wars. A distinctive feature of Virtonomics' in-browser business games is the scale. Be part of a huge world, a vast geography, with dozens of industries, hundreds of products, and most importantly, thousands of competitors at your feet! You can enter into alliances, organize your mafia, master industrial espionage, engage in competitive wars, create a monopoly and walk on the razor's edge.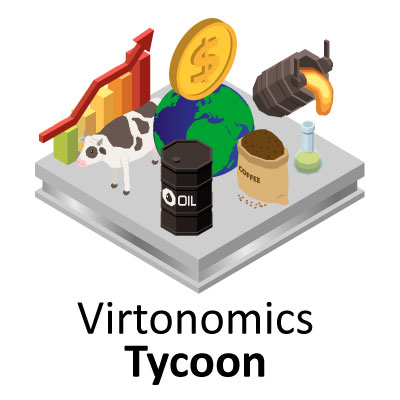 Empower Yourself with Virtonomics
Business simulation games are a great way to learn business skills and have fun at the same time. Business games can help you develop various competencies that are essential for running a successful business in real life, such as analytical thinking, creativity, strategic planning, resource management, market research, customer service, teamwork, leadership, negotiation, communication, risk management, and crisis resolution. Economic games can also help you learn about different industries, markets, technologies, trends, and opportunities that exist in the global economy.
If you are looking for an economic game or business simulation that is realistic, dynamic, educational, and entertaining, you should try Virtonomics. Virtonomics is a multiplayer business simulation that allows you to create and manage your own virtual company in a realistic economic environment. Virtonomics is not just a game; it is also a powerful educational platform that teaches you the basics of economics, management, entrepreneurship, finance, marketing, sales, production, strategy, innovation, and more.