Benefits of the Virtonomics affiliate program.
Virtonomics is currently one of the most famous business simulation and economic online games in the world with a multi-million audience. Virtonomics attracts gamers, entrepreneurs, and managers. Depending on the audience and subject of your site or blog, you can focus and earn on both entertainment and educational Virtonomics products. The average payment of a Virtonomics user is one of the highest in the industry. This is why our project is of interest to numerous partners who have joined our affiliate program.
If you already have your own website or blog and want to significantly increase the income received from your audience, then the Virtonomics affiliate program was created just for you. Quick registration in the affiliate program, a transparent system of analytics, and payments for partners = 20%.
How often and when can I receive my remuneration?
Affiliate commission payments are made upon your request. The application is made in the partner interface, where you can track the status of the application in real-time. The minimum withdrawal amount is 100 USD.
Also, at your request, it is possible to convert partner rewards into Game Points (virtual game currency). There are no restrictions on the minimum amount of conversion, you can transfer any whole number of game points to your account.
What affiliate tools will be provided to the webmaster to control income and statistics?
There is a special Partner interface for partners of the affiliate program. With it, you can track data on the registrations and activity of your users, as well as on the accrued commission, with details for each user and payment. In addition, the Partner Interface includes a set of additional tools that give a complete picture of your service.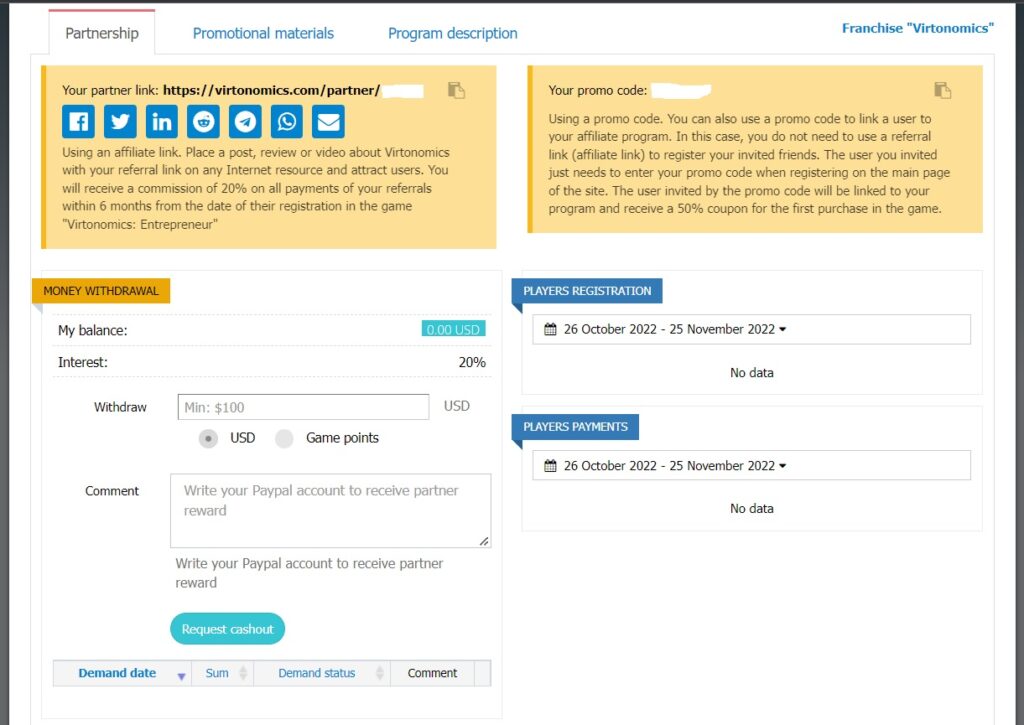 What tools are available for a partner of Virtonomics?
Referral link
The affiliate link looks like this: https://virtonomics.com/partner/NNNN. Place a post, review, or video about Virtonomics with your referral link on any Internet resource and attract users. From all payments made by your referrals within 6 months from the moment of registration in the game Virtonomics Entrepreneur, you will receive a 20% commission.
Promo code
You can also use a promo code to "bind" a user to your affiliate program. In the case of using a promo code, the user does not need to use a referral link (affiliate link) for registration, it is enough just to indicate the code when entering registration data on the main page of the site. The user will be linked to your affiliate program and at the same time receive a 50% coupon for the first payment made. And you, as well as in the case of a referral link, will receive a commission of 20% of the user's payments.
Affiliate Content
We have tried to make life as easy as possible for our partners and webmasters, and we are trying to help you earn money more efficiently with us. To do this, we have prepared all the necessary content that our partner needs: Landing pages, Texts, Banners of various formats, Pictures and Screenshots, Videos, Presentations, and other materials that our partners may need for more comfortable work and a quick start.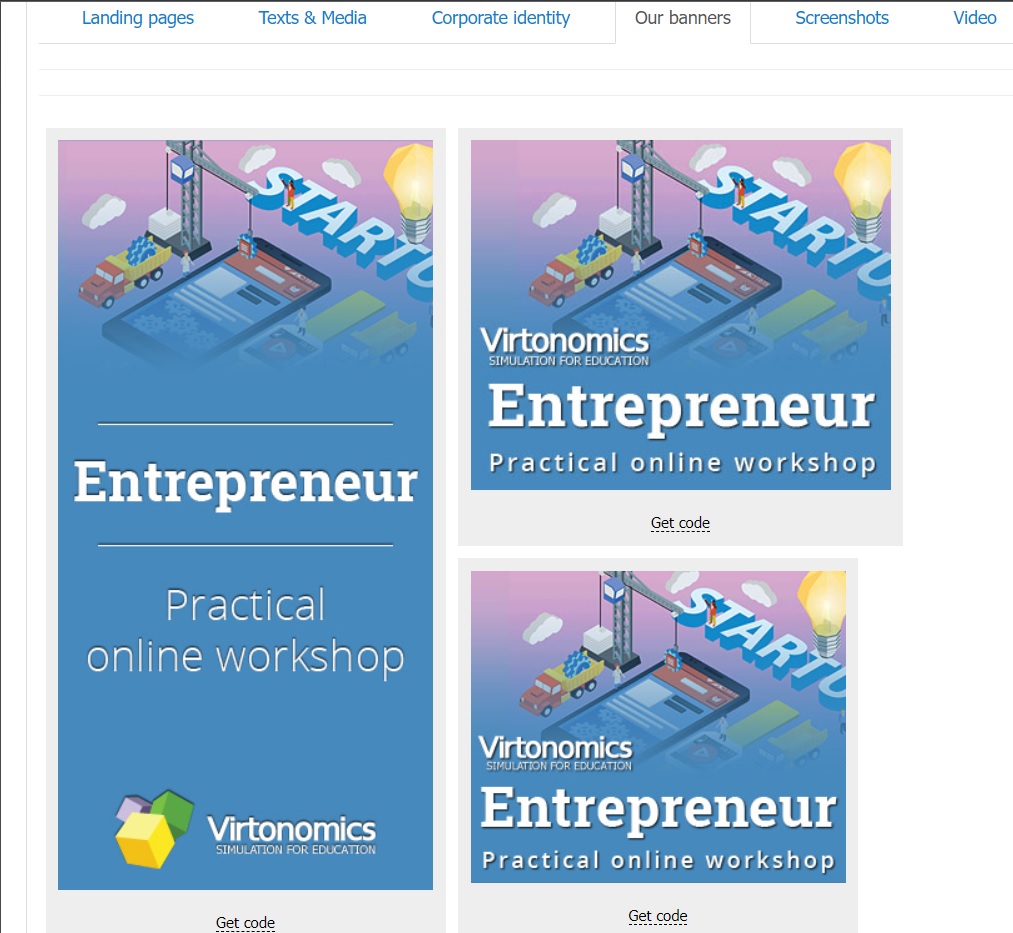 How to connect to the Virtonomics affiliate program?
Select the section "Community" in the menu, the item "Invite friends"
Click "Become a partner" in the "Referral Program" block
Done. You have got access to your affiliate account, your referral link, affiliate materials, statistics, and an interface for withdrawing money.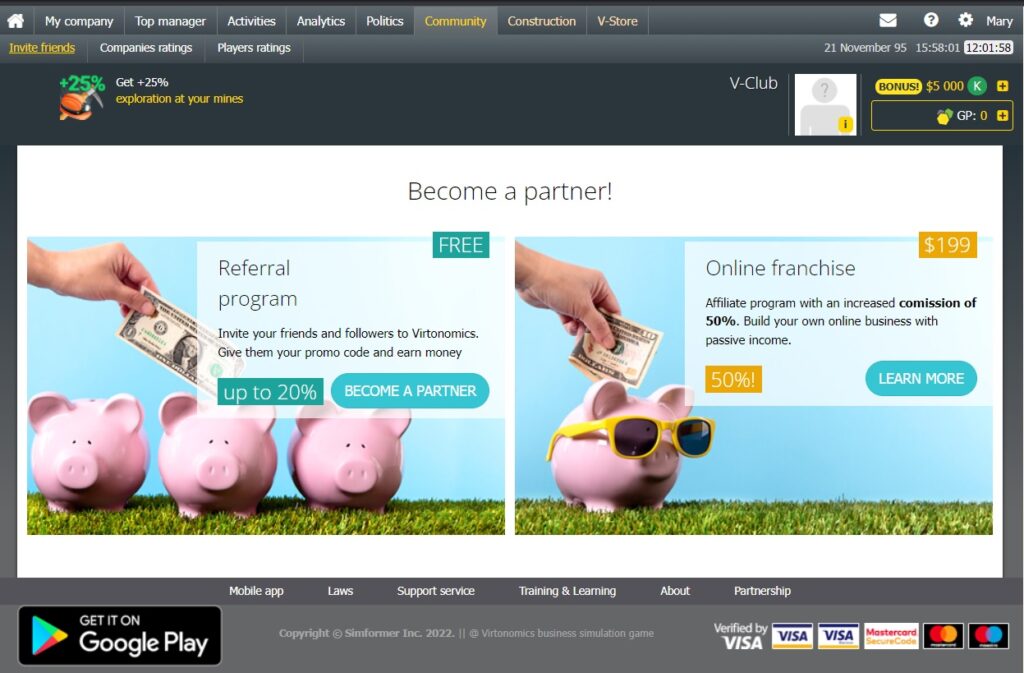 Welcome to the club of partners of the best business simulator in the world!