---
Why is Virtonomics considered the most advanced economics game in the world? Let's try to understand the most important aspects of this economic simulation.
About Virtonomics
Multiplayer economy game
An interactive multiplayer economy created by hundreds of thousands of players who play Virtonomics and develop their virtual companies in the game. The actions of many players shape the economic parameters of entire cities, regions, countries, and global industries;
Free market and interactions
Free and vibrant market environment, similar to the real market with real competition and cooperation, with its surprises and "black swans". In the business simulation, you, as the head of your company, interact not only with game algorithms. But first of all, you interact with the virtual businesses of other live players. Buy and sell goods or raw materials, enter into contracts, enter into partnerships, or compete. Everything happens like in real life, but much more fun and faster 🙂
Detail and variety
High-quality and deep detailing of key business processes and management functions of your business empire. Of course, we try to maintain a reasonable balance between the depth of detail, accessibility for understanding, and the fun of the gameplay. Millions of our users say we can do it.
Lots of features, surprises, and opportunities for exploration
A lot of non-obvious, but very interesting features and extraordinary gameplay. In Virtonomics you will find a huge number of "Easter surprises" 🙂
Game-based learning of economics and business skills development
Along with unusual, exciting, and challenging gameplay, Virtonomics is a powerful tool for learning the basics of economics and management. This business game is one of the most effective simulators for developing entrepreneurial and managerial skills.
Virtonomics is the most advanced economics game, attracting over 3 million players worldwide.
Immerse yourself in a tycoon game, fully populated by smart and successful individuals. Businesspeople, entrepreneurs, startup CEOs, university and college students in addition to members of the intelligentsia all form a friendly, business-oriented community. Players are keen to share their knowledge and experience, explain how to implement successful strategies, and how to grow your company exponentially. Among the players of Virtonomics, you'll find leaders and managers of small and large businesses, local companies, and international corporations.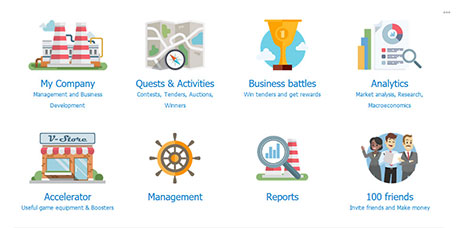 Your main goal in Virtonomics is to create an effective and successful global company.
Players are building and managing their startups and big corporations in various industries while competing for market share. In the process of business development, each manager has to make important decisions every day. The best thing about Virtonomics is that players can witness the results of their decisions much sooner than they would in real life.

– How efficient is your team?
– How effective is your marketing campaign?
– Should you improve your managerial skills for better results?
– Have you chosen the best partners possible?

Players encounter these kinds of questions daily. By making the correct decisions at the right times, their business can become the next economic powerhouse.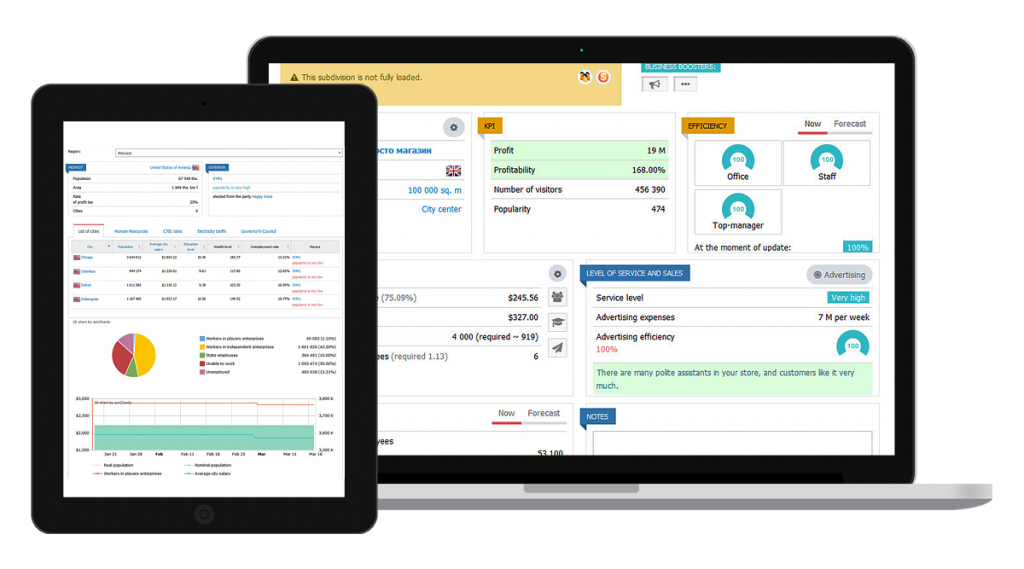 ---
Experience truly non-linear gameplay
– Ever wondered what it's like to manage a chain of retail stores or an oil refinery?
– How about owning the biggest gym in Hong Kong?
– The biggest agricultural farm in Argentine?
– Perhaps you'd like to become the mayor of New York?

Players aren't limited to a single scenario or a preset number of choices that they can make in the game. The economy simulator provides an open-world, nonlinear environment for business-savvy people. The economic conditions that everyone can experience within Virtonomics are the result of choices made by every single player. In a true multi-user economy, every participant matters. All players become a part of a rapidly growing economy and influence it with their actions.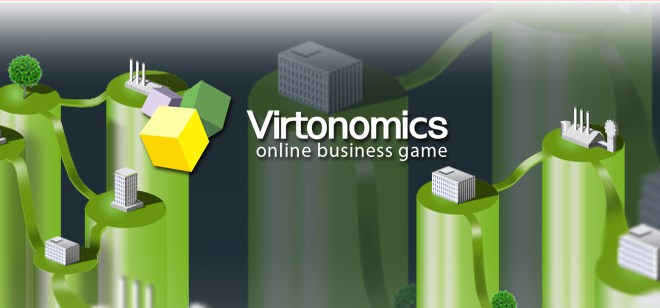 Become a moving part of our global virtual economy
Each player receives virtual start-up capital. It's completely up to each individual how much of their startup capital is going to be spent. Everyone has to come up with specific business goals and strategies to achieve them. Players can choose to create the most recognizable brand, build the highest-grossing company, produce the best quality products, or form a billion-dollar corporation; the possibilities are endless. Every player picks their path and their final destination.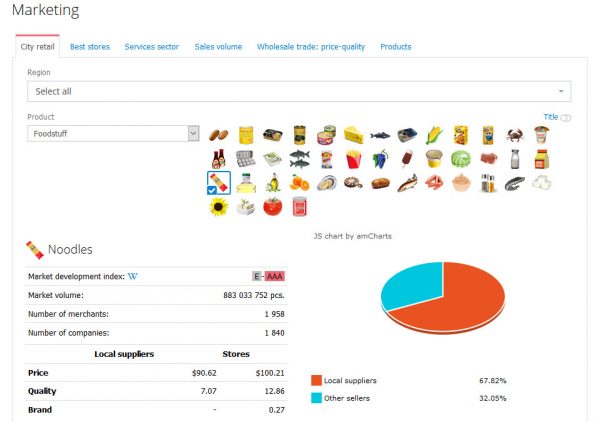 Useful tips for beginner entrepreneurs playing Virtonomics.
So, you begin your unforgettable journey to create your own successful business! The first steps are usually the hardest. Therefore, we want to give you some tips that will help you quickly understand the intricacies of the game and business.
On the first day of the game, we recommend that you:
Complete the Demo Game.
The Demo Game only touches on a very small part of the gameplay – shop management. But it will give you a basic understanding of the enterprise management logic and interface. You will find the blue "Demo Game" button on the main game dashboard.
Complete all tasks in the "Where to start?" widget.
Be sure to try to complete all the tasks to set up the efficient operation of your company. These tasks are listed in the "Where to start?" widget on the main gaming dashboard.
Start completing quests.
Tasks in quests will help you get finance for the development of the company, improve your character's skills, and help you quickly understand the principles of managing your business.
Tomorrow and in the coming days:
In the early days of the game, conduct market research on the markets and available industries. Try to choose a promising market niche that interests you, and focus your efforts on this niche. Diversify your business gradually. Try to balance your investments and expenses with the company's income so as not to go broke.
Enter the business game daily, your company needs regular attention. In addition, during the first 2 weeks, special rewards await you every day to help your company grow.
Be sure to pay attention to the news published every day in the newspaper "Virtonomics Insider". Usually, the news contains important economic information and useful hints about new market opportunities for your company.
Don't forget to use "Help". It contains detailed information about most aspects of the economics game.
Don't be afraid to make managerial mistakes.
No entrepreneur is immune from mistakes. The lessons learned from your mistakes in Virtonomics are your experience and capital, which will allow you to avoid possible losses in real business. Unlike real life, in Virtonomics you don't risk anything if you fail. Try to find a reasonable balance between risks and profitability, between the dynamics of development and the sustainability of your business. Do not be afraid to go bankrupt several times in the initial stages of the game – this is a normal process, just start the game again or get additional investments to save the company.
Time management.
Virtonomics does not require many hours of online play and is democratic in terms of game schedule. Each round lasts a day, so you can give the orders necessary for business at any convenient time of the day or night, minus the hours when the recalculation is in progress. However, as the virtual company grows, so will the time it takes to play. Take control of this process! Use group operations more actively ("My company / Management" menu), build optimal production chains, negotiate with reliable, hassle-free suppliers, hire managers to efficiently manage labor-intensive processes, and develop the management structure of your company. In particular, the HR director service will help you automate the personnel management process, and the technical director can solve all issues related to the regular need to repair equipment yourself.
Participation in tenders.
Participation in various tenders will help you better understand the logic of the work of various industries, and winning the tender will provide you with rewards and bonuses that are useful for your business. Focus. Try to participate in no more than 3 tenders at the same time.
Marketing research and market analysis.
The game is so big that even on servers that are extremely saturated with players, you can easily find a place for a profitable start. This is an exciting creative and intellectual challenge. Try to regularly study marketing reports and market analytics, take advantage of regularly emerging market opportunities and consider possible threats to your business.
Buying and selling businesses.
The Enterprise Market is an important and useful marketplace where players buy and sell business units. It is often much faster and cheaper to buy a ready-made plant from another player than to build your own for a long and expensive time. In addition, in the enterprise market, you can often buy a business unit with high technology already installed that you do not already have. You can also put up for sale any of your business units if you no longer need it.
Mining enterprises.
Having an uninterrupted supply of quality raw materials at a predictable reasonable price is one of the key factors for the successful development of your company and business sustainability. Metals, oil, and vegetable raw materials are the basis of most production chains. We recommend that you have in the structure of your company the necessary mining enterprises that will provide your factories with basic raw materials. Mining plants can be built by yourself or bought in the mining enterprises market.
Your character's business skills.
Your playable character's skills are one of the most important aspects of the game. The business skills of your Top Manager reflect his competence in managing certain business functions (Production, Sales, Marketing, HR,..), or the level of competence in certain industries (Retail, IT,…). The higher your character's skills, the more effective he or she is.
For example, the higher the "Management" skill of your character, the more business units and jobs you can create, and manage them more efficiently. The higher the "Marketing" skill, the greater the possible advertising budgets and the more effective advertising campaigns. The higher the "Production" skill, the more effective your manager is in managing production enterprises. And so on.
Your character's managerial skills and competencies develop organically as you begin to lead the relevant activities. The more successful you are in a certain area, the faster your business skills will develop.
Skill "Management".
The "Management" skill is one of the key ones, and is responsible for the overall efficiency of your regional offices, which in turn are responsible for the overall efficiency of your company, and its divisions! Let's say you run a manufacturing plant with high Production skills. Your enterprise will never be effective unless you also have high Management skills. Also, you will never be able to manage a large corporation with a low Management skill. Upgrade this skill first!
In addition, players with high Management skills can unlock new gameplay options. Once you reach level 3, you will be able to buy and sell businesses. When you reach level 5, the maximum size of your units will become unlimited. Once level 7 is reached, you will be able to trade auctions and trade bonds! With level 10, it becomes possible to create united corporations and political parties to be elected to the positions of mayor, governor, and even the President of the country.
Crisis management.
Is your company having financial difficulties? No panic! Almost all successful entrepreneurs have gone through this difficult phase of the business. Your advantage is that you experiment and make mistakes in a risk-free virtual environment. Your mistakes and failures in Virtonomics are your invaluable experience, for which many people pay very dearly for such experience in real life. Most likely, you have made large investments in the purchase of equipment, goods, and the construction of new business units, but overestimated your ability to sell and the rate of return on investment. It's OK. Many people make this mistake. Make anti-crisis decisions to save your company – close unprofitable divisions, reduce inefficient expenses, sell inventory at a discount, restructure the company, and attract loans and investments. Or try restarting the game. Most importantly – do not give up, draw the right conclusions, and continue to build and develop your business! You will definitely succeed in creating the company of your dreams!
Good luck, future tycoon!
---