Virtonomics is a well-known parent of the best tycoon games and business simulations for varying audiences and needs.

Our business games allow beginners and experienced entrepreneurs alike to build virtual prototypes of real businesses, test development strategies and improve knowledge and skills in managing real companies and startups.

For fans of tycoon games and economy simulations, Virtonomics offers the opportunity to build a global corporation in a realistic, competitive virtual environment. You'll be able to manage the regional and global economies of large and serious industries, cities and countries.

Startup company simulator "Entrepreneur"
The best startup simulation for novice entrepreneurs. Our realistic business simulations teaches you the basics of practical management. The main goal of this educational game is to develop your managerial skills and attain experience in creating a successful business. Virtonomics helps to minimize the management mistakes that often arise in real business environments.
Why does an entrepreneur need to use a business simulations?
Are you planning to start your own business or do you already have a startup but lack knowledge and entrepreneurial experience?
Learn, practice and train your
managerial skills in a realistic business
simulation. This is far more effective
than learning theory parrot-fashion.
Do you want to protect yourself and your company from critical mistakes and losses at the initial growth stage?
We naturally learn best through making mistakes. This isn't ideal. Make mistakes in a virtual simulator, not while running a live business. It's much cheaper.
Do you want to test your strategy and business model?
Before investing and implementing your idea in real life, test it out in one of our business simulations. Minimize risks when experimenting in a simulator.
If you answered "Yes" to any of these questions, we advise you to try out our "Entrepreneur" simulation. Today, it's a must-have tool for any founder.
---
Free business game
"Mafia Manager"
This is a free multiplayer strategy game (PvP) for true connoisseurs of hardcore economics games about business, spies and the mafia! Your secret agents and corporate security services have at their disposal the broadest arsenal of legal and illegal methods of competition.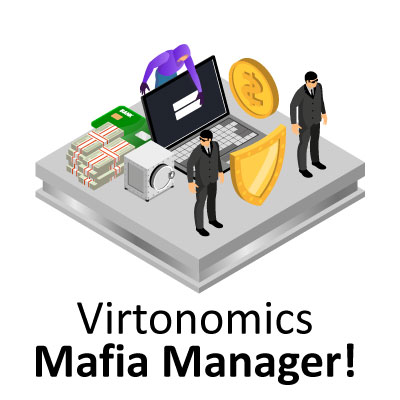 Over 200 different industries for your virtual business to thrive in.
Dozens of countries where you can create your own political party and become a governor or the president.
The ability to manage your own corporate secret service.
The possibility of colluding with other players to form a corporate clan or mafia.
A powerful combat PvP arsenal to attack competitors and protect your interests.
---
Free economy game
"Tycoon"
The goal of this exciting economy game is to build a globally efficient business in a competitive environment. You get start-up capital and are able to develop your virtual company via the scenario that you choose. The traits of this tycoon game, in terms of its versatility and the freedom that it gives the player, makes it something unprecedented and unique.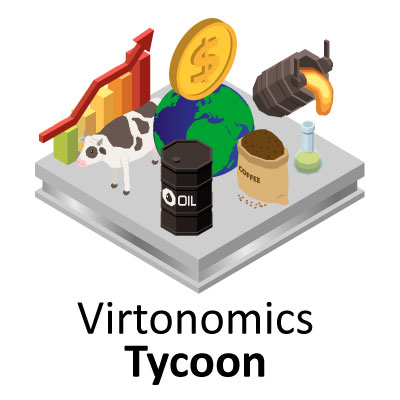 You can build a distribution network, become an agricultural or industrial tycoon, you can focus on high technology or research, conduct urban planning, engage in political struggles and public administration; our world is at your fingertips. Build the largest business empire the world has ever seen!
Fans of multiplayer tycoon games and online corporate battles will also find in Virtonomics an interesting and captivating experience.

All of Virtonomics' games are available in English, Spanish and Russian